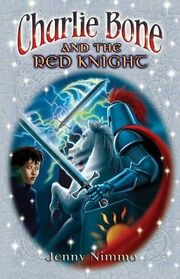 Charlie Bone and the Red Knight is the eighth and final novel in the Charlie Bone Series.
It's prequel is Charlie Bone and the Shadow of Badlock.
Plot Summary
The race to find the box containing the real will that states that Billy Raven is the inheritant Bloors' fortune has become deadly. The Bloors are gathering their evil forces - thieves, poisoners, kidnappers, swindlers and even murderers from Piminy Street and an expert magical swordsman from the seventeenth century. And Lord Grimwald, Dagbert's father, is enlisted to drown Charlie's father and mother on their second honeymoon using his magical Sea Globe. Charlie is determined to stop them from finding the box and destroying it. But with the Pets' Cafe closed down, Billy trapped in Badlock and Olivia's endowment discovered and enchanted into helping the Bloors, it looks like his only hope might be the mysterious Red Knight.
Prequels
Charlie Bone and the Time Twister
Charlie Bone and the Castle of Mirrors
Charlie Bone and the Hidden King
Charlie Bone and the Wilderness Wolf